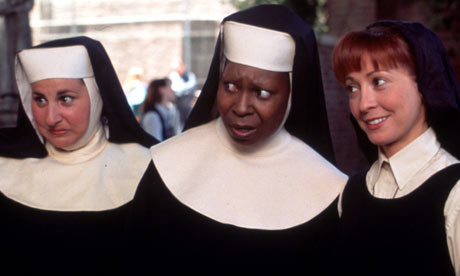 On his way to the mall, the panda chanced to sit in front a nun. The nun sat near the driver. She would not bother passing other
pasajeros pamasahe
. That was ok, maybe she was praying, but what was interesting about her was that she was fat - like the stout Buddha. She can barely fit in her habit.
"Why is she fat?" Aren't nuns supposed to practice the Vow of Poverty?
When he got home, he googled "vow.... of.. poverty.." The answers to his question became clear:
xxx The vow of poverty is not to be interpreted as being for ever poor, but rather to sharing everything in common. Those who embrace a vow of poverty do not claim private ownership of any possessions: everything they have is used for the common good of the Religious Order xxx
Wow! The vow of poverty is a misnomer after all. That explains everything! The nuns' mall strollings, their air-con rooms, their maids, their healthy everyday meals complete with desserts, their new service vans, etc. Pretty much more or less a comfortable community life, one may say.
The new understanding of the "vow" still does not explain why some nuns are fat. Whatever happened to religious fasting? Are they not allowed to exercise? Maybe it is a hormonal thing that comes with age. Who knows? Vow of poverty and being overweight is hard to reconcile.